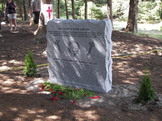 Travel by ancestry adds a new dimension to planning a vacation. With a search for ancestry as a primary focus, a vacation can span days, weeks, even centuries! At La Have, Nova Scotia, the headwaters of an Mikmaq-Acadian heritage and culture, travel by ancestry holds special significance for those who search for indigenous Mi'kmaq-Acadian roots.
A drive to Petite Riviere might begin at nine in the morning and end in the seventeenth century -- at an ancient Mi'kmaq - Acadian burial ground. Follow a winding path through a farmer's field; and there, in a clearing, you may encounter a granite stone, guarded by a lone white horse -- the familiar surnames of founding ancestors, who lived nearly four hundred years ago, carved into its surface.
Click here for more of this story.