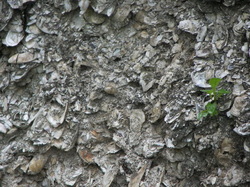 Travel by ancestry adds a new dimension to planning a vacation. With a search for ancestry as a primary focus, a vacation can span days, weeks, even centuries!

In Maine, a hike along a trail to the Damariscotta River ends with a view of an immense shell midden. The presence of the Native American community that lived in the area for thousands of years is still felt here, on a river where salt water mixes with fresh as easily as the present with the past.

Nearby, the layers of a smaller, remnant shell midden are still apparent, each telling its own story of a time, a culture, and a people.