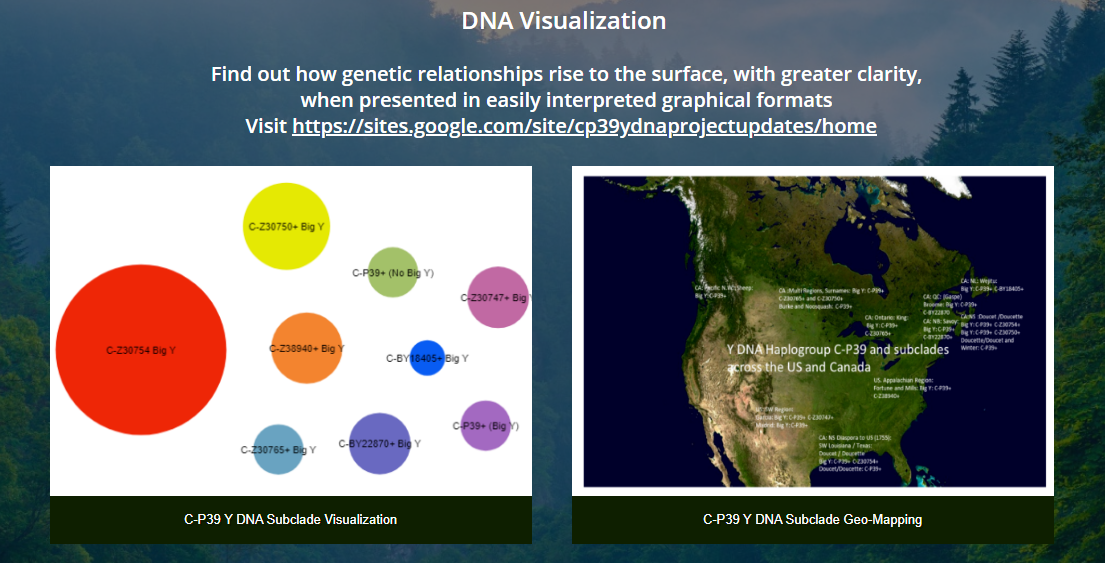 March 27, 2018
The C-P39 Y DNA Project Updates Website
is a dynamic, data visualization platform. Graphical techniques and methods have been applied so that project members and website visitors may gain a rapid understanding of how Y DNA test results compare without having to read through pages of row and column information.
C-P39 Haplogroup Distribution
,
Genetic Distance
,
Most Recent Common Ancestor (MRCA)
, and
Big Y relationships
rise to the surface, with greater clarity, when presented in easily interpreted graphical formats.​
The information and visualizations provided on this site update the earlier analysis released in the report, "C3b Y Chromosome DNA Test Results Point to Native American Deep Ancestry, Relatedness, among United States and Canadian Study Participants by Marie Rundquist," August 2012 which may be viewed
here
. The C-P39 Y DNA Project Updates website is updated frequently as new information becomes available. Reference the
C-P39 Y DNA Haplogroup Project Family Tree DNA website
for complete information.
Citation: Mauri, M., Elli, T., Caviglia, G., Uboldi, G., & Azzi, M. (2017). RAWGraphs: A Visualisation Platform to Create Open Outputs. In Proceedings of the 12th Biannual Conference on Italian SIGCHI Chapter (p. 28:1–28:5). New York, NY, USA: ACM. https://doi.org/10.1145/3125571.3125585