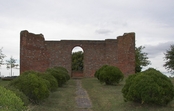 Travel by ancestry adds a new dimension to planning a vacation. With a search for ancestry as a primary focus, a vacation can span days, weeks, even centuries! A trip to Maryland's Eastern Shore, can include a stop in the 18th century, with a visit to the White Marsh Episcopal Church (circa 1690). You'll find the ruins of the old church just outside of the historic port town of Oxford, Maryland, on Route 50.
Take a short walk from your car to the 14th of December, 1755, when port master Henry Callister and his friend, The Reverend Thomas Bacon, took up a special collection and pleaded with Oxford's plantation families to help the 263 starving and destitute Acadian exiles just recently arrived on Oxford's docks, from Nova Scotia, Canada.
Click here for more of this story.